1st step n.1 - Fri, 31 January 2014

Tel.+41 (0)61-313 60 70

E-mail

Info:info@sommercasino.ch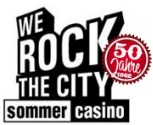 Sommercasino
Münchensteinerstr. 1, Basel
Show on map
MEDIA
Direkt mal ein großartiger Start mit einer Besetzung, die wir, meiner Meinung nach viel zu selten bei Emergenza auf der Bühne sehen.
Face
machen HipHop, Rap on Beats. Teilweise geht das musikalisch in Richtung Eminem, erinnert aber textlich auch hin und wieder an Mac Miller oder Ludachris. Technisch einwandfrei, wenn man von der kleinen Textpanne seiner Gast-Sängerinn absieht. Für diese ausgezeichnete Leistung ziehen wir die Wildcard und freuen uns auf ein Wiedersehen im Semifinale für Face, die es stimmenmäßig leider nicht schaffen konnten (18 Votes).
Musikalisch nicht weniger interessant ging es weiter mit
The Cyntastics
, drei Jungs aus Olten, die mit britisch angehauchtem Indie Pop Rock, die den Club zum Tanzen brachten. Sehr viel Potential im Songwriting, vielleicht an der ein oder anderen Stelle (gerade hinsichtlich Polyphonie) noch Ausbaufähigkeiten aber auf jeden Fall ein starker dritter Platz und damit ein weiterer Semifinalkandidat (34 Votes).
Und es bleibt spannend: die nächste Band,
Ticket to the Moon
, spielt nur zwei Songs – aber was für welche. Metallischer Prog-Rock vom Feinsten. Tight on point gespieltes Schlagzeug, mit extrem vielen rythmischen Variationen, Keyboard Soli, die einem Jordan Rudess Fan noch das Hösschen feucht machen, fette Gitarren und ein knallender metallischer Bass. Desweiteren auch absolut abwechslungsreich hinsichtlich der musikalischen Atmosphäre, was unter anderem eine ausgezeichnete Gesangspassage des Drummers beinhaltete. Das alles erntet heute den wohlverdienten ersten Platz mit 78 Votes.
Call me Peter
nennt sich die nächste Band, die punk beeinflussten Hard Rock spielen. Extrem coole und auch eigenständige Ideen im Songwriting sind hier zu hören, nur die Umsetzung ist technisch noch nicht 100%-ig sicher. Aber auch da wird sicherlich noch einiges passieren, wenn man da mal ein paar Tage investiert. Wir sind gespannt auf den Fortschritt der Jungs – vielleicht sehen wir uns ja schon bald wieder? (29 Votes gab's dafür heute Abend).
Fetten Rock mit Gitarrenwänden und einem stampfenden Rhythmusfundament präsentieren
Alyss
aus der französischen Schweiz. Teilweise vielleicht ein wenig überperformt war das aber durchaus technisch topsolide und hat den Zuschauern ordentlich Spaß gemacht. Und dass die Jungs wissen, wie man feiert, durften wir nach dem Konzert noch miterleben. (20 Votes)
Unser "Headliner"
Final Crusade
dreht noch einmal richtig auf. Optisch homogen zeigten sie, was man mit Metal alles anrichten kann und brachten die Meute noch einmal zum Feiern. Aus musikalisch technischer Sicht empfehle ich grade dem Drummer noch einige Stunden im Proberaum, denn für wirklichen Punch, sollte da dringend mal mit Klick geübt werden. Im Gegenteil dazu performen die Gitarren einwandfrei saubere oftmals mehrstimmige Soli. Und das erntet mit 50 Stimmen einen soliden zweiten Platz und damit den vierten Kandidaten fürs Semifinale an diesem Abend.
Vielen Dank euch allen – wir sehen uns in zwei Wochen bei der
nächsten Show
.