Semi final n.1 - Fri, 5 April 2013

Tel.+41 (0)61-313 60 70

E-mail

Info:info@sommercasino.ch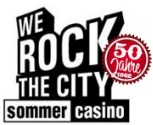 Sommercasino
Münchensteinerstr. 1, Basel
Show on map
MEDIA
Unser Opener Alehouse überzeugt mit sehr coolen Songs, die durchaus Eigenständigkeit zeigen und sich vor allem im Laufe des Auftritts extrem steigern. Beim absolut hitverdächtigen "Dance Motherfucker" feiern die ersten Fans schon ordentlich ab. An der Performance kann das Trio noch arbeiten, aber eine sehr, sehr solide Grundlage steht.
There Will Be Lions spielen Rock, der ein wenig an eine Mischung aus Wolfmother und Incubus erinnert. Starke Synthiepassagen werten das Gesamtpaket ordentlich auf. Leider manchmal, was das Bühnencharisma betrifft noch zu introviert, um heute wirklich viele Fremdstimmen einsacken zu können.
Weiter geht's mit Sick Twisted Smile. Irgendeine Mischung aus Punk, Metalcore und Alternative Rock. Leider impliziert diese "Vielfalt" auch eine gewisse Richtungslosigkeit. Musikalisch ordentlich umgesetzt, die Sängerin zeigt allerdings nur bei der Ballade wirklich, dass sie gut singen kann. Ein beeindruckendes Fanpulk zeigt nach der Show die Hand, doch die Jury gibt nicht genügend Punkte, dass es insgesamt für's Weiterkommen ins Finale reicht. Die junge Band hat aber noch genügend Luft nach oben und wer weiß, wie das in einem Jahr aussieht - ausbaufähig!
Ganz andere Töne machen Deep Well. Eine sehr moderne Art von Gothic Rock, der astrein umgesetzt und großartig performt wird. Manchmal nimmt das Ganze schon Züge eines Musicals an. Unglaublich starke Band und eine zu 100% überzeugende Frontfrau. Die Jury zückt fast überall die Maximalpunktzahl, aber auf Grund fehlender Fans reicht es heute leider nicht.

Bühne frei für The 2nd Riot, die musikalisch eher noch in den Kinderschuhen laufen. Vom Songwriting über die Umsetzung bis hin zur Bühnenpräsenz fehlt hier noch einiges. Irgendwo im breiten Indiefehld wabernd müssen die Jungs doch noch viel Erfahrung sammeln und sich erst noch entwickeln. Die eigenen Fanbase votet schon fleißg, das reicht aber so noch nicht für den großen Wurf. Dran bleiben und wiederkommen!
Tubekillers sind schon deutlich älter, als die meisten Bands des Abends und trotzdem rocken sie die Bretter, die die Welt bedeuten heute energiegeladener, als viele der anderen Combos. Auch wenn nicht immer alles im Auftreten perfekt koordiniert ist, so springt hier auf jeden Fall mal ein Funke über. In den Songs fehlt hier und da noch etwas Abwechslung, dann wird das sicherlich ein tolle Sache.
Die Fanscharen gröhlen es schon den ganzen Abend und nun sind sie an der Reihe: Headless Project. Heavy Metal, teils wieder etwas abwechslungslos und ohne wirklich starke Melodien. Die Performance hingegen sehr, sehr gut und eben Fans, die die Jungs richtig feiern. In der Addition mit den Jurypunkten kann sich ihr Ergebnis sehen lassen (180 Punkte) – 1. Platz. Gratulation!
Und ganz überraschend gibt dann der "Headliner" A Certain State Of Mind nochmal richtig Vollgas. Eine sehr interessante Mischung aus Symphonic Rock, der manchmal in verschiedenste Richtung abdrifted trifft eine starkes Auftreten auf der Bühne. Saubere Leistung. In der Addition mit den Jurypunkten ein tolles Ergebnis (178 Punkte) – 2. Platz und ab ins Finale.
Insgesamt ein gelungener Abend mit super Stimmung im gut vollen Sommercasino. Musikalisch vielleicht noch nicht ganz das, was man sich bei einem Semifinale wünschen würde, aber die richtigen Bands für das Schweizer Finale wurden gefunden.
Nochmal ein riesen Dankeschön an ALLE BANDS, die dabei gewesen sind; an einem Abend mit 8 Bands und nur zweien, die weiterkommen, sind doch eigentlich alle Sieger ;)


Euer Aurel