1st step n.1 - Fri, 13 February 2015

Tel.+41 (0)61-313 60 70

E-mail

Info:info@sommercasino.ch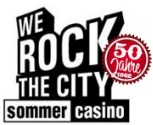 Sommercasino
Münchensteinerstr. 1, Basel
Show on map
MEDIA
Im Gegensatz zu Bern ist in Basel in dieser Saison nicht viel los. Gerade mal eine Vorrunde mit 7 Acts ist zustande gekommen.
Allerdings legt der Opener die Messlatte gleich mal richtig hoch.
HOW TO PAINT A WALL
glänzen mit einer fantastischen weiblichen Stimme an der Front und einer soliden Band. Der Vorteil – zu Beginn ist mal wieder gleich richtig viel los und so holt sich der junge Fünfer mit Gastsänger gleich mal 50 Stimmen ab, die am Ende zum Tagessieg reichen sollen.
Im letzten Jahr waren
BREAKING MERCY
noch in Deutschland, in Freiburg, am Start. Da inzwischen zwei aus der Band in der Schweiz studieren, wollten sie dieses Jahr ihr Glück auf der anderen Grenzseite versuchen. Leider sind von den 30 Fans dann tatsächlich nur 17 erschienen und so war es für sie schwer, vor allem nach der tollen Leistung des Openers, noch einen drauf zu setzen. Leider nur 23 Votes.
Einen krassen musikalischen Wechsel bescherten uns dann
GLB
. Die drei Rapper mit "DJ" am iPad gaben sich aber die größte Mühe ihren Fanpulk anzuheizen. Die Beats richtig gut, muss ich bei den Texten teils passen, da ich sie nicht verstanden habe. Auch bei ihnen waren von 50 Leuten nur 36 gekommen und genau von diesen gab es dann auch eine Hand für die Performance. Somit retten die Fans das Trio auf den dritten Platz und das Semifinale.
Dann kam aber der Hammer. Das Warten hatte sich gelohnt.
HAMMER ON
sind noch blutjung, beherrschen aber ihre Instrumente perfekt. Satter Blues Rock durchdrang die Gehörgänge und spülte alle noch Musikinteressierten wieder in den Club. Das war richtig stark und wurde mit 47 Stimmen belohnt. Zweiter Platz!
DAVE BRIGHT
ist Singer/ Songwriter und hat seine Band im Gepäck, die poppige und fein arrangierte Songs servieren. Als Starter gibt es noch ein Cover und das braucht es wohl auch noch, um erst mal etwas Warm zu werden. Beim Hauptgang und Dessert sind sie aber alle locker und Dave zeigt auch, was er für eine starke Stimme hat. Leider ist sein Fansupport noch sehr übersichtlich und viel Leute sind schon abgewandert, so reicht es hier auch nur zu 27 Stimmen. Schade.
Dann der nächste Rap-Act.
E-LIGHT
hat sich aber eine echte Live Band dazugeholt und verzichtet auf home-made Playbacks. Obwohl keine Fans dabei – da sie morgen schon im Finale eines anderen Contest stehen – spielen sie so nach und nach die Leute wieder rein. Der Rap-Flow ist ziemlich stark, die Band solide und mit Akustikgitarre, Cajon / Drums und Bass klassisch besetzt, allerdings eigentlich nicht für Rap. Krasser Kontrast, aber leider auch nur 29 Votes.
Den Abschluss geben
LOAF OF STONE
mit einer Mischung aus filigran, zerbrechlichen Folk, progressiven Anleihen, Country Smasher und portugiesisch gesungenen Liedern, die durch ihre Melancholie schon fast an Fado erinnern. Wenn die Band richtig übt und und sich optisch noch etwas an die Musik anpasst, dann könnten ihr alle Türen im Business offen stehen. Mein heimlicher Favorit, der aber leider auch nur 29 Stimmen bekommt und somit, genauso wie E-Light noch auf eine evtl. Wild-Card, die nach der
Vorrunde in Luzern am 20.03.
vergeben wird, warten müssen.
Danke Basel – bis zum
Semifinale am 17.04.2015