THE NEXT BANDS ON STAGE
Signed up 16 October 2016 at 3:47 a.m.

Alternative rock
New Zealand
Signed up 26 October 2015 at 5:39 a.m.

Acoustic
New Zealand
Signed up 19 May 2015 at 9:08 p.m.

Alternative Folk
New Zealand
Next bands around the globe

Rock
Russia

Hard Rock
Spain
Sticky Fingers - Klubben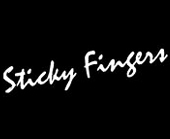 Sticky Fingers - Klubben
Kaserntorget 7, Gothenburg
Show on map
Bakgrund
Sticky Fingers öppnade dörrarna 1998 och sedan dessa har många kända artister stått på scenen. År 2002 öppnade den nya konsertlokalen Top Floor och Sticky Fingers stärkte sin position som Göteborgs mest aktiva Rock klubb framförallt på live-fronten.

Sticky Fingers idag
Fyra våningars nöjespalats med allt från hård rock i källarvåningen till dansant pop, rock och indie på entréplan till svängig soul, funk, hip-hop och R&B på vår dansvänliga övervåning Top Floor. På våra 2 scener uppträder allt från lokala förmågor till internationellt kända artister.