THE NEXT BANDS ON STAGE
Signed up 16 October 2016 at 3:47 a.m.

Alternative rock
New Zealand
Signed up 26 October 2015 at 5:39 a.m.

Acoustic
New Zealand
Signed up 19 May 2015 at 9:08 p.m.

Alternative Folk
New Zealand
Next bands around the globe

Indie Pop
Russia

New Metal
Argentina
KINDERGARTEN
Phone: +39 33 87 73 62 42

Club Contact: carlo@derkindergarten.it

General Informations: ciak@derkindergarten.it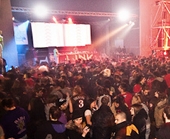 KINDERGARTEN
Via Alfredo Calzoni, 6, Bologna
Show on map
Il Kindergarten vanta un numero notevole di concerti di musica dal vivo che hanno visto protagonisti ospiti di richiamo: dalle storiche band rock e 80' ad artisti più giovani passando attraverso i grandi nomi della musica elettronica come fino alle punte di diamante della scena electro e pop internazionale. Un locale che propone continuamente nuove iniziative musicali. Ha ospitato concerti di grandi artisti rock internazionali, propone spesso festival per gruppi emergenti ed è dove si svolge il famoso Decadence, serata rock alternativa.