RECENT MEDIA
6/2/2021 3:41:37 PM
6/1/2021 9:33:50 AM
THE NEXT BANDS ON STAGE
Signed up 16 October 2016 at 3:47 a.m.

Alternative rock
New Zealand
Signed up 26 October 2015 at 5:39 a.m.

Acoustic
New Zealand
Signed up 19 May 2015 at 9:08 p.m.

Alternative Folk
New Zealand
Next bands around the globe

Indie Rock
Russia

Other...
Russia
The Lair @ The Metro
Phone: +61 02 95 19 92 31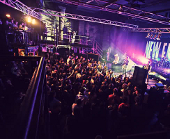 The Lair @ The Metro
624 George St.,, Sydney
Show on map
This is the small venue within the venue. All the up coming bands and best emerging artists play The Lair through the Emergenza music competition. We give bands to opportunity to shine and prove they are worthy of attention. Our music contest supplies this incredible venue where the stars of tomorrow are encouraged and helped. This is the hot spot for live rock music in Sydeny. People drive from all over the state to watch bands on this incredible stage with state of the art sound system. The Lair is simply one of those places where you know you will have the time of your life watching bands.