RECENT MEDIA
5/24/2019 8:27:43 PM
5/24/2019 7:38:59 AM
THE NEXT BANDS ON STAGE
Signed up 16 October 2016 at 3:47 a.m.

Alternative rock
New Zealand
Signed up 26 October 2015 at 5:39 a.m.

Acoustic
New Zealand
Signed up 19 May 2015 at 9:08 p.m.

Alternative Folk
New Zealand
Next bands around the globe

Progressive rock
United Kingdom
Pop
South Korea
THE VILLAGE
Phone: +353 1 47 58 555



General Informations: info@thevillagevenue.com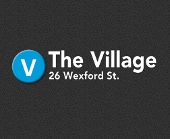 THE VILLAGE
26 Wexford Street, Dublin
Show on map
The Village venue is a stylish live music venue, which also encompasses a pub and late night bar.