RECENT MEDIA
6/16/2021 12:55:22 PM
6/16/2021 12:29:38 PM
THE NEXT BANDS ON STAGE
Signed up 16 October 2016 at 3:47 a.m.

Alternative rock
New Zealand
Signed up 26 October 2015 at 5:39 a.m.

Acoustic
New Zealand
Signed up 19 May 2015 at 9:08 p.m.

Alternative Folk
New Zealand
Next bands around the globe

Emotional hardcore
Japan

Alternative rock
Italy
Katacombes
Phone: +1 514 861 61 51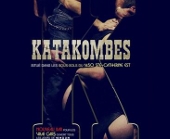 Katacombes
1635 Boulevard Saint-laurent, Montreal
Show on map
This is a favourite of cool students into that heavy rock scene. What most rockers blog as « a crazy, fun venue », this is in fact a strange one. Also situated on busy ST Laurant Blvd, it is right next door to Cafe Clopatra and is an underground club that has seen anything from Gay punk bands to super cool rock and rollers. A must, if you visit Montreal and soak in some skull and crossbone culture. If you want to see tattoed chicks and long haired rockers this is the place and Émergence is super proud to bring some of Montreal's best up coming bands here.