THE NEXT BANDS ON STAGE
Signed up 16 October 2016 at 3:47 a.m.

Alternative rock
New Zealand
Signed up 26 October 2015 at 5:39 a.m.

Acoustic
New Zealand
Signed up 19 May 2015 at 9:08 p.m.

Alternative Folk
New Zealand
Next bands around the globe

Other...
Italy

Other...
Germany
Galadhrim
Phone: +39 0861 252290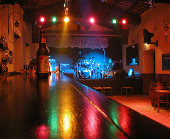 Galadhrim
Via Madonna del Riparo, 1, Teramo
Show on map
Il Galadhrim (oggi new Galadhrim) nasce come pub e locale per gruppi emergenti e si trasforma negli anni in uno spazio più aperto e polifunzionale dove intorno al cuore dell'attività rappresentata dalla ristorazione si sviluppano le passioni artistiche di uno staff capace di gestire tanto i gruppi emergenti italiani quanto spettacoli più tradizionali. L'indie rock originalmente preponderante lascia spazio ad attività più classiche ma non manca una lista di gruppi musicali italiani che anche in occasione del festival per band emergenti organizzato da Emergenza hanno saputo farsi valere.