THE NEXT BANDS ON STAGE
Signed up 16 October 2016 at 3:47 a.m.

Alternative rock
New Zealand
Signed up 26 October 2015 at 5:39 a.m.

Acoustic
New Zealand
Signed up 19 May 2015 at 9:08 p.m.

Alternative Folk
New Zealand
Next bands around the globe

Rap
France

Electronic rock
Russia
L'Espace Julien
Phone: 04-91-24-34-10



General Informations: contact@espace-julien.com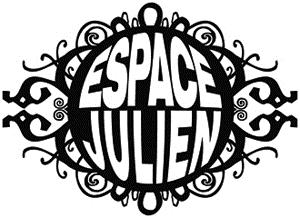 L'Espace Julien
39 Cours Julien, Marseille
Show on map

Rock, pop, métal, hip-hop, reggae… tous les styles, tous les publics, des Artistes amateurs ou professionnels, toutes les diasporas culturelles sont ainsi rassemblés à l'Espace Julien, véritable lieu de rencontres du centre ville marseillais, tremplin pour les groupes locaux et passage obligé pour les groupes confirmés. Avec sa jauge de 1000 places debout, des systèmes d'éclairage et de sonorisation modernisés, un parvis extérieur aménagé, toutes les conditions sont réunies pour satisfaire tous les publics, toutes les générations, toutes les exigences artistiques.