THE NEXT BANDS ON STAGE
Signed up 16 October 2016 at 3:47 a.m.

Alternative rock
New Zealand
Signed up 26 October 2015 at 5:39 a.m.

Acoustic
New Zealand
Signed up 19 May 2015 at 9:08 p.m.

Alternative Folk
New Zealand
Next bands around the globe

Electronic rock
Russia
Signed up yesterday at 10:46 p.m.

Indie Rock
Russia
THERMOS
Phone: +39 34 98 34 72 76



General Informations: oloapmar@tin.it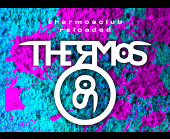 THERMOS
Via Palestro, Ancona
Show on map
Da piu' di un decennio il circolo ARCI Thermos è punto di riferimento aggregativo e culturale per molti giovani anconetani. La musica e i festival di gruppi sono sempre protagonisti nell'attività del circolo: gruppi rock, dj elettronica e tutti altri generi. Una programmazione contraddistinta da concerti live e serate con DJ, ma dove trovano spazio anche spettacoli teatrali off, festival canori, rassegne e concorsi.