RECENT MEDIA
6/17/2021 11:05:27 PM
6/16/2021 12:55:22 PM
THE NEXT BANDS ON STAGE
Signed up 16 October 2016 at 3:47 a.m.

Alternative rock
New Zealand
Signed up 26 October 2015 at 5:39 a.m.

Acoustic
New Zealand
Signed up 19 May 2015 at 9:08 p.m.

Alternative Folk
New Zealand
Next bands around the globe

Alternative metal
Russia

Ethnic
Kazakhstan
Birmingham Academy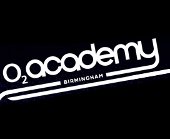 Birmingham Academy
52/54 Dale End, Birmingham
Show on map
This venue has had a £5.5m refurbishment in its latest 45,000sq ft development it has three state of the art venues that can operate independently as well as simultaneously. With an exceptionally busy diary, O2 Academy Birmingham actively supports new and developing talent in O2 Academy2 and O2 Academy 3, through to gigs by top international artists for over 3,000 fans in its main auditorium. Emergenza is proud to bring the best up coming bands Birmingham has to offer.