THE NEXT BANDS ON STAGE
Signed up 16 October 2016 at 3:47 a.m.

Alternative rock
New Zealand
Signed up 26 October 2015 at 5:39 a.m.

Acoustic
New Zealand
Signed up 19 May 2015 at 9:08 p.m.

Alternative Folk
New Zealand
Next bands around the globe

Alternative rock
Spain

Other...
Germany
Rolling Stone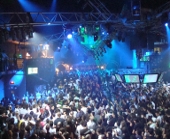 Rolling Stone
Corso Xxii Marzo 31, Milano
Show on map
Il Rolling Stone di Milano anche se ormai è chiuso, è stato per molti anni uno dei più importanti locali di musica live in Italia. Sul palco del Rolling Stone hanno suonato i migliori gruppi musicali italiani ed internazionali e per molti anni è stato il locale dove si è svolta la finale nazionale del concorso musicale per gruppi emergenti, Emergenza Festival.