THE NEXT BANDS ON STAGE
Signed up 16 October 2016 at 3:47 a.m.

Alternative rock
New Zealand
Signed up 26 October 2015 at 5:39 a.m.

Acoustic
New Zealand
Signed up 19 May 2015 at 9:08 p.m.

Alternative Folk
New Zealand
Next bands around the globe

Pop
United Kingdom

American Rock
Spain
Flipperhouse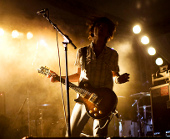 Flipperhouse
Statale 11 Caldiero, Verona
Show on map
I locali di musica dal vivo aperti alle band emergenti ed ai nuovi gruppi rock italiani non sono mai stati tanti. Tra i pochi che hanno saputo coniugare la professionalità e la creatività necessaria a promuovere band e gruppi emergenti in modo efficace e produttivo c'è sicuramente il Flipper House. Anni di esperienza e notti insonni hanno generato idee e progetti dedicati alla musica emergente che hanno conseguentemente reso naturale la collaborazione con il Festival Emergenza. Il concorso rock dedicato alle band emergenti ha importato nel Flipper House la sua gara rock. L'iniziativa si è dimostrata capace di far affluire nuova linfa nella già ricca programmazione live dedicata alle band rock italiane del locale.