RECENT MEDIA
5/4/2021 11:57:23 AM
5/4/2021 11:56:20 AM
THE NEXT BANDS ON STAGE
Signed up 16 October 2016 at 3:47 a.m.

Alternative rock
New Zealand
Signed up 26 October 2015 at 5:39 a.m.

Acoustic
New Zealand
Signed up 19 May 2015 at 9:08 p.m.

Alternative Folk
New Zealand
Next bands around the globe

Heavy Metal
Russia
Signed up yesterday at 10:05 a.m.

Electronic
Russia
The Greyhound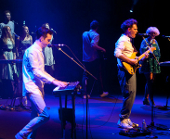 The Greyhound
St Kilda, Melbourne
Show on map
The Greyhound is situated in super funky St. Kilda. For those of you who are not familiar with this Melbourne area, this is where it all happens. This amazing pub has plus settings, the best light system and a stage that could host a full 100 pice orchestra. It is one of the most stunningly beautiful places in melbourne to watch bands or drink cocktails in the chill out area. Emergenza is the only music competition in the world that can bring upcoming bands to such exclusive stage.