THE NEXT BANDS ON STAGE
Signed up 16 October 2016 at 3:47 a.m.

Alternative rock
New Zealand
Signed up 26 October 2015 at 5:39 a.m.

Acoustic
New Zealand
Signed up 19 May 2015 at 9:08 p.m.

Alternative Folk
New Zealand
Next bands around the globe

Pop
Spain

Other...
Germany
BARFLY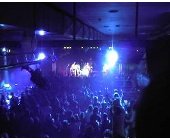 BARFLY
Via Grandi, 3, Ancona
Show on map
Il Barfly di Ancona ha visto sul palco i più famosi gruppi italiani. E' considerato tra i migliori d'Italia per le sue caratteristiche e per il calibro degli artisti che ospita da sempre, oltre 100.000 persone ogni anno hanno visitato il locale. Un palco dotato delle migliori tecnologie audio, video e luci, due pedane laterali rialzate per una migliore visuale, un parterre che può ospitare fino a 1500 persone, uno splendido bar lungo quasi 20 metri, un'enoteca ristorante dove gustare piatti prelibati e ottimi vini, uno staff efficiente e una programmazione artistica con gruppi emergenti e artisti rock italiani senza eguali.