THE NEXT BANDS ON STAGE
Signed up 16 October 2016 at 3:47 a.m.

Alternative rock
New Zealand
Signed up 26 October 2015 at 5:39 a.m.

Acoustic
New Zealand
Signed up 19 May 2015 at 9:08 p.m.

Alternative Folk
New Zealand
Next bands around the globe

Rap
Sweden

Metal
Australia
Mephisto
Phone: +34 65 916 36 52



General Informations: mephisto@mephistobcn.com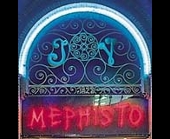 Mephisto
C/ Roc Boronat, 33, Barcelona
Show on map
Mephisto es la discoteca y la sala de conciertos más heavy del país. No solo organiza conciertos de rock en España, sino que también gestiona viajes para ir a festivales extranjeros. Mephisto ha evolucionado mucho, y ahora ofrece una gran variedad de servicios para los organizadores de conciertos o concursos de bandas, así como una sala totalmente equipada. Por la madrugada, Mephisto se convierte en el local de locuras rock.