SENASTE MEDIA
4/20/2019 1:45:29 AM
4/19/2019 3:29:12 PM
NÄSTA BAND PÅ SCENEN
Anmält 17 april 2019 klockan 18:06

Soul
Sverige
Anmält 17 april 2019 klockan 16:01

Pop Rock
Sverige
Anmält 17 april 2019 klockan 15:29

Hard Rock
Sverige
Band som snart går upp på scener runt om i världen
Anmält för 7 timmar sedan

Other...
Tyskland
Anmält för 10 timmar sedan

Heavy Metal
Ryssland
The Cornish Arms Hotel
Telefon +61 3 93 80 83 83



Allmän information: thecornish@bigpond.com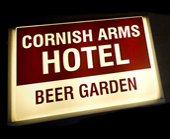 The Cornish Arms Hotel
163a Sydney Rd Brunswick, Melbourne
Visa karta
This pub is a big building where you can choose to have either a draught beer, a great meal or watch the best upcoming bands in Melbourne. It has a great roster of DJ's, open mic nights for singer song-writers and full bands displaying their talent. Our music competition once again helps this great venue showcase what's on offer in the melbourne area.