NÄSTA BAND PÅ SCENEN
Anmält 28 juli 2021 klockan 19:28

Afro
Sverige
Anmält 26 juli 2021 klockan 10:23

Reggae
Sverige
Anmält 22 juli 2021 klockan 11:34

Hard Rock
Sverige
Band som snart går upp på scener runt om i världen

Electro Pop Rock
Chile
Anmält för mindre än 1 timme sedan

Other...
Ryssland
Sticky Fingers - Top Floor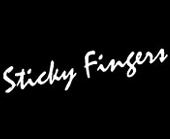 Sticky Fingers - Top Floor
Kaserntorget 7, Gothenburg
Visa karta
Bakgrund
Sticky Fingers öppnade dörrarna 1998 och sedan dessa har många kända artister stått på scenen. År 2002 öppnade den nya konsertlokalen Top Floor och Sticky Fingers stärkte sin position som Göteborgs mest aktiva Rock klubb framförallt på live-fronten.

Sticky Fingers idag
Fyra våningars nöjespalats med allt från hård rock i källarvåningen till dansant pop, rock och indie på entréplan till svängig soul, funk, hip-hop och R&B på vår dansvänliga övervåning Top Floor. På våra 2 scener uppträder allt från lokala förmågor till internationellt kända artister.

Band som spelat på Sticky Fingers
22 PISTEPIRRKO 69 EYES ALBERT LEE ALL TIME LOW AMERICAN MUSIC CLUB AND YOU WILL KNOW US BY THE TRAIL OF DEAD ANIMALS ARENA AS I LAY DYING ASH BACKYARD BABIES BAD CASH QUARTET BAND OF HORSES BELLRAYS BERGMAN ROCK BIG ELF BJÖRN ROSENSTRÖM BLACK REBEL MOTORCYCLE CLUB BLACKSTONE CHERRY BLAZE BAILEY BLINDSIDE BLOODHOUND GANG BOB HUND BRANT BJÖRK BRIAN JONESTOWN MASSACRE BRODER DANIEL BRUCE KULICK BUDDY MILLER BUILLT TO SPILL BULLET FOR MY VALENTINE CAESARS PALACE CANDLEMASS CATHEDRAL CHICKS ON SPEED CLASSIC NOUVEUX CLAWFINGER CLUTCH COMBICHRIST CRASH DIET CROWN OF THORNS CULT OF LUNA D.A.D DAN BAIRD DAN REED DANIEL JOHNSTON (US) & FRIENDS DANIEL LEMMA DANKO JONES DAVE EDMUNDS DAVID EUGENE EDWARDS DAVID THE CITIZENS DAVID URWITZ DE LA SOUL DEPORTEES DEAD BY APRIL DEAD MOON DEAD PREZ DEATHSTARS DE LYCKLIGA KOMPISARNA DER PLAN DEVIN TOWNSEND PROJECT DIA PSALMA DIAMOND DOGS DICK DALE DILLINGER ESCAPE PLAN DIVISION OF LAURA LEE DOKKEN DOWNSET DR DOG DREAM EVIL DUNGEN EAGLES OF DEATH METAL EASY ACTION EDITORS EEK A MOUSE ELECTRIC EEL SHOCK ENTOMBED ERIK HASSLE EVAN DANDO EVERGREY FASTER PUSSYCAT FIREFOX AK FIRESIDE FLOGGING MOLLY FRANK BLACK & THE CATHOLICS FRANK GAMBALE FREAK KITCHEN FREEDOM CALL FRONTLINE ASSEMBLY FU MANCHU GENTLEMAN GLAMNATION GLORIOUS BANKROBBERS GLUECIFER GOTTHARD GREG BISSONETTE HÅKAN HELLSTRÖM HAMMERFALL HANOI ROCKS HARDCORE SUPERSTAR HÄSTPOJKEN HIDDEN CAMERAS HIGH ON FIRE HORACE BROWN HORROPOPS IAN HUNTER IN FLAMES INFINITE MASS J MASCIS JAKOB HELLMAN JASON COLLET JÄVLARANAMMA JENS LEKMAN JOAN AS POLICEWOMAN JOE BONAMASSA JOHN NORUM JORN LANDE JOSE GONZALES JOSH ROUSE JULIETTE LEWIS & THE LICKS KAMELOT KHONNOR KHOMA KINGSTON AIR FORCE KLEERUP KMFDM KRISTIAN ANTTILA KRISTOFFER ÅSTRÖM LA GUNS LA COCA NOSTRA LAAKSO LAIBACH LARRY CARLTON LARS DEMIAN LE SPORT LEE OSKAR LILLASYSTER LIZZY BORDEN LOK LOOPTROOP LYNCH MOB MACALPINE / SHEEHAN / DONATI MAD SIN MADRUGADA MAGNUS UGGLA MANDO DIAO MARKUS KRUNEGÅRD MARKY RAMONE MELODY CLUB MESHUGGAH MEW MICHAEL MONROE MICHAEL RUFF & STRAITJACKET MICHAEL SHENCKER MICK TAYLOR MISS Li MOLLY HATCHET MONEYBROTHER MONO MOTORHEAD MOTORHOMES MOTORPSYCHO MOUNTAIN MUNICIPAL WASTE MUSTASCH NACHTMAR NASHVILLE PUSSY NATIONALTEATERN NEBULA NECO CASE NEW MODEL ARMY NOICE OF MONTREAL OPETH OVERKILL PAIN PAIN OF SALVATION PARKWAY DRIVE PAUL DIANNO PETTER PIERCED ARROW QUEENS OF THE STONEAGE QUIREBOYS RAGING SPEEDHORN RAISED FIST RALLYPACK RANDY RATATAT REEL BIG FISH REVEREND HORTON HEAT RISE AGAINST ROBERT JOHNSON & PUNCHDRUNKS RON SEXSMITH ROSIE THOMAS RYAN ADAMS SAHARA HOTNIGHTS SALEM AL FAKIR SAYBIA SATOR SHOUT OUT LOUDS SILVERBULLIT SKINNY PUPPY SLAGSMÅLSKLUBBEN SONIC SYNDICATE STEFAN SUNDSTRÖM STEREO TOTAL STEVE HARLEY & THE COCKNEY REBEL STEVE MORSE STEVEN ADLER STONEGARD STREET DOGS SUFJANS STEVENS SUGARPLUM FAIRY SULTANS OF PING TAKIDA TALISMAN THE AGGROLITES THE ANSWER THE BEAR QUARTET THE BRONX THE DILLINGER ESCAPE PLAN THE DIRTBOMBS THE DONNAS THE DWARVES THE FALL THE FEELING THE FRAMES THE GATHERING THE HAUNTED THE HELLACOPTERS THE HIDDEN CAMERAS THE HIVES THE INTERNATIONAL NOICE CONSPIRACY THE JON SPENCER BLUES EXPLOTION THE KILLS THE KRISTET UTSEENDE THE LEVELLERS THE LIBERTINES THE MAGIC NUMBERS THE MISSION THE NOMADS THE POSIES THE RADIO DEPT THE RAPTURE THE SAINTS THE SOUNDS THE SOUNDTRACK OF OUR LIVES THE SPENCER DAVIES GROUP THE SPOTNICKS THE TOSSERS THE TUBES THE VUE THE WANNADIES THE WILDHEARTS THERAPHY THIN LIZZY TIGER ARMY TIGER LOU TIMO RÄISÄNEN TINGSEK TNT TORSSON TOUGH ALLIANCE TREAT TUXEDOMOON UFO UNION UNIVERSAL POPLAB USCB ALLSTARS VIVE LA FETE VOLBEAT WALTER TROUT WARLOCKS WHITE FLAG WHITE LION WITCH WILMER X WOVEN HAND YNGWIE MALMSTEEN YVONNE YOUNG HEART ATTACK ZODIAC MINDWARP med många fler...