RECENT MEDIA
6/6/2020 9:33:42 AM
6/4/2020 6:38:15 AM
THE NEXT BANDS ON STAGE
Signed up 13 septembra 2018 at 8:58

Experimental Rock
Slovensko
Signed up 18 januára 2018 at 16:33

Hard Rock
Slovensko
Signed up 11 januára 2017 at 18:40

Folk rock
Slovensko
Next bands around the globe

Other...
Francúzsko
Signed up yesterday at 10:51

Alternative
španielsko
Debaser Medis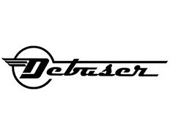 Debaser Medis
Medborgarplatsen 8, Stockholm
Show on map
Debaser Medis på Medborgarplatsen 8 (T-bana Medborgarplatsen) öppnade 1september 2006. Det är ett större konsertställe med kapacitet på 850 personer. Vår fina cocktailbar på andra våningen med utsikt över Medborgarpltasen har en väldigt fin jukebox där du själv kan välja musiken. Dessutom stoltserar vi med en riktig biograf med fullständiga rättigheter! Ja det är sant! Du kan se film och sippa på ett glas vin samtidigt. Ett ställe har blivit två! Dubbelt så kul. Vi ses på Debaser, eller som Black Francis i Pixies brukar sjunga: "got me a movie, i want you to know, slicing up eyeballs, i want you to know, girlie so groovy, i want you to know, don't know about you, but i amune chienne andalusia wanna grow , up to be, be a debaser, debaser"