THE NEXT BANDS ON STAGE
Signed up 13 septembra 2018 at 8:58

Experimental Rock
Slovensko
Signed up 18 januára 2018 at 16:33

Hard Rock
Slovensko
Signed up 11 januára 2017 at 18:40

Folk rock
Slovensko
Next bands around the globe

Pop
španielsko
Signed up yesterday at 9:22

Other...
Nemecko
Le Trianon
Phone: 01-44-92-78-00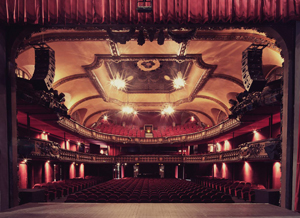 Le Trianon
80 Blv Rochechouart, Paris
Show on map


Le Trianon s'est imposé comme un des lieux culturels les plus importants de Paris. Il accorde une place de choix aux arts de la scène et se tourne vers une programmation variée : concerts allant du classique avec l'Orchestre Symphonique d'Europe, à la chanson française avec Jacques Higelin, Johnny Halliday, Mickey 3D, General Electrik, Inodochine, Ibrahim Maalouf, Camille, Louis Chedid, Arthur H, Miossec, Benabar et Carla Bruni, mais également des artistes internationaux comme Texas, Jay Jay Johanson, Rufus Wainwright, Ian Paice de Deep Purple... Cet établissement qui a exploré tous les arts du spectacle et réuni sur ses affiches des vedettes aussi différentes que talentueuses a été repris en 2010. Il a été complètement restauré dans un souci de préservation du patrimoine. Il s'est de nouveau ouvert au public le 22 novembre 2010 avec une belle série de concerts d'artistes internationaux tels que M.I.A., Sum 41, Tyler The Creator, Groundnation, Pharell Williams, Simple Plan, Goldfrapp, Deftones, Tricky, Ayo, Chic, Herman Dune, Raphael Saadiq, Julien Doré, the do, Gonzales, Rodrigo y Gabriela, Ayo, Rapahel Saadiq, Moriarty, ou encore Macy Gray..