RECENT MEDIA
5/4/2021 11:57:23 AM
5/4/2021 11:56:20 AM
THE NEXT BANDS ON STAGE
Signed up 13 septembra 2018 at 8:58

Experimental Rock
Slovensko
Signed up 18 januára 2018 at 16:33

Hard Rock
Slovensko
Signed up 11 januára 2017 at 18:40

Folk rock
Slovensko
Next bands around the globe

Other...
Rusko
Signed up yesterday at 9:32

Alternative Francophone
Angola
SPENSERS LIVE
Phone: +61 03 93 29 88 21



General Informations: bob@spenserslive.com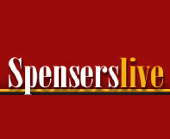 SPENSERS LIVE
419 Spencer Street, Melbourne, Melbourne
Show on map
This venue has a simple catchphrase: "Keeping music live'. Indeed they do. With more equipment on stage that you can poke a stick at, this venue has owners with passion. True passion for live music. Emergenza brought its music festival to this live music venue and some of the best upcoming rock bands in the country. A favourite of the blues crowd, Spenser live on Spencer street has the best guitar players showcasing their talent.