RECENT MEDIA
12/11/2017 3:43:13 AM
12/11/2017 1:33:45 AM
THE NEXT BANDS ON STAGE
Signed up 16 October 2016 at 3:47 a.m.

Alternative rock
New Zealand
Signed up 26 October 2015 at 5:39 a.m.

Acoustic
New Zealand
Signed up 19 May 2015 at 9:08 p.m.

Alternative Folk
New Zealand
Next bands around the globe

Progressive rock
Switzerland
Signed up less than one hour ago

Other...
United States of America
Kansas City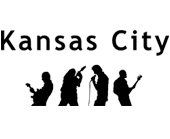 Kansas City
Munkebjergvej 140, Odense
Show on map
Kansas City eksisterer for at forbedre forholdene for musikken i Odense. Dels på den kreative side – i selve processen med at skabe musik og at skabe optimale forhold for musikere i Odense, for vækstlaget – og dels igennem eksponering af disse musikere både i Kansas Citys eget spillested samt ved eksterne arrangementer med samarbejdspartnere, såsom Sport Event Fyn, spillestedet Posten, Kulturmaskinen, Studenterhuset m.fl.
Målet er at højne bevidstheden både i og uden for Odense omkring de kulturelle og kreative kræfter, der eksisterer i byen – og samtidig skabe så gode forhold for disse kræfter, at de vælger at blive i Odense og ikke søger ud til de større byer som København og Århus.
Projektet omkring et hus for musikere startede i 2005, hvor Kansas City, dengang Odense Rytme Center, som eneste græsrodsbevægelse blev en del af Odense kommunes Kulturstrategi. Dette skete netop med henblik på, at Odense Rytme Center skulle skabe og etablere optimale forhold for musikere i Odense, for på den måde, via disse musikeres skaberglæde, at få eksponeret Odense udadtil, som en by med masser af kulturelt liv og kreativitet.
I dag er det en realitet. Kansas City har, med 40 øvelokaler, over 100 bands og i nærheden af 500 musikere, som har deres daglige gang på stedet.
Modsat de større, etablerede steder i Odense, som Posten og Magasinet, eksisterer Kansas Citys spillested, som en slags træningsbane for de nye unge bands på vej. Det er således også her, at musikinteresserede i Odense har mulighed for at høre, hvad Odense og resten af landet har at byde på af nye bands og musikere.