THE NEXT BANDS ON STAGE
Signed up 16 October 2016 at 3:47 a.m.

Alternative rock
New Zealand
Signed up 26 October 2015 at 5:39 a.m.

Acoustic
New Zealand
Signed up 19 May 2015 at 9:08 p.m.

Alternative Folk
New Zealand
Next bands around the globe

Metal
Poland
Signed up less than one hour ago

Hard Rock
Russia
Posthalle Würzburg
Phone: +49-0-931-30418707



General Informations: info@ph-event.de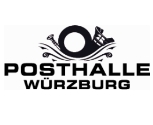 Posthalle Würzburg
Bahnhofplatz 2, Würzburg
Show on map
In der Posthalle geht die Post ab!! Wahnsinns Konzerthalle, riesige, geile Bühne mit bester Technik, geräumiger Backstage und meist sehr gut besuchte Show (oft über 700 Zuschauer). Seit 2010 finden in der Konzerthalle, die wenn sie nicht abgetrennt ist über tausend Menschen fasst, unsere Würzburger Semifinals statt. Dass die Atmosphäre hier großartig ist, beweist die Line-up-History der Posthalle: fast jede namhafte deutsche Band stand hier schon auf der Bühne! WOW!