THE NEXT BANDS ON STAGE
Signed up 16 October 2016 at 3:47 a.m.

Alternative rock
New Zealand
Signed up 26 October 2015 at 5:39 a.m.

Acoustic
New Zealand
Signed up 19 May 2015 at 9:08 p.m.

Alternative Folk
New Zealand
Next bands around the globe
Signed up less than one hour ago

Rock
Russia

Garage Rock
Russia
Alcatraz Live
Phone: + 39 02 69016352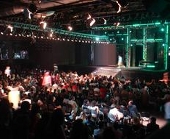 Alcatraz Live
Via Valtellina 25, Milano
Show on map
L'alcatraz è uno dei maggiori live club europei. Sul palco del locale milanese sono passati i maggiori artisti del mondo. L'immenso palco del club è stato per anni il sogno di qualsiasi band emergente e non solo. Un sogno che finalmente le migliori band emergenti italiane hanno potuto realizzare attraverso il concorso per gruppi Emergenza che ha aperto le porte del leggendario Alcatraz a musicisti pieni di talento anche se non ancora professionisti. Band emergenti di Roma, band emergenti di Bologna, gruppi emergenti di Firenze, Verona, Genova, Napoli, Udine, Treviso, Padova, Torino e di tutte le altre città italiane dove si svolge la rassegna, hanno avuto la possibilità di promuovere la propria musica, e di suonare dal vivo, in occasione delle finali nazionali del contest rock. Salire sullo stesso palco dove la sera prima hanno suonato i tuoi gruppi di riferimento è un sogno. Questa è la sensazione per la maggior parte dei musicisti emergenti che hanno vissuto questa esperienza. In effetti un festival per le band emergenti italiane che potesse aprire spazi finora inaccessibili era un'esigenza che l'ambiente del rock sentiva. L'unione dell'impegno dello staff dell'Alcatraz e di quello di Emergenza per produrre le migliori band emergenti e per promuovere i gruppi emergenti selezionati durante il concorso ha quindi dato ottimi frutti.