THE NEXT BANDS ON STAGE
Signed up 16 October 2016 at 3:47 a.m.

Alternative rock
New Zealand
Signed up 26 October 2015 at 5:39 a.m.

Acoustic
New Zealand
Signed up 19 May 2015 at 9:08 p.m.

Alternative Folk
New Zealand
Next bands around the globe

Rap
France

Indie Pop
Switzerland
Marcon Festival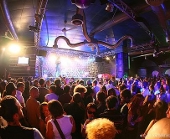 Marcon Festival
Area Impianti Sportivi - Marcon (ve), Treviso
Show on map
Il Marcon Festival ha ospitato per qualche stagione la finale nazionale italiana del festival Emergenza rock. Tutti i vincitori del concorso rock a roma, del concorso rock a milano, del concorso rock a firenze ed in tutte le atre città italiane si sono sfidati nella finalissima nazionale del festival per band emergenti. Il contest per gruppi ha quindi decretato i vincitori che hanno raggiunto la finale internazionale. Il Marcon Festival ha quindi rappresentato per diverse stagioni la vetrina ideale per i nuovi gruppi rock emergenti.