THE NEXT BANDS ON STAGE
Signed up 16 October 2016 at 3:47 a.m.

Alternative rock
New Zealand
Signed up 26 October 2015 at 5:39 a.m.

Acoustic
New Zealand
Signed up 19 May 2015 at 9:08 p.m.

Alternative Folk
New Zealand
Next bands around the globe

Other...
Russia

Metal
Russia
Area 51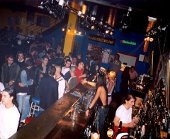 Area 51
Via Veneto 47, Riccione
Show on map
L'area 51 è un pub pieno di energia dove la musica dal vivo dei gruppi rock emergenti si esprime in piena libertà. Non solo concorsi rock per band emergenti ma anche promozione per la musica nuova e per i giovani talenti pronti a mostrare di cosa sono capaci salendo sul palco dell'ambito locale della costa adriatica.