THE NEXT BANDS ON STAGE
Signed up 16 October 2016 at 3:47 a.m.

Alternative rock
New Zealand
Signed up 26 October 2015 at 5:39 a.m.

Acoustic
New Zealand
Signed up 19 May 2015 at 9:08 p.m.

Alternative Folk
New Zealand
Next bands around the globe

Hip Hop Rock
Russia

Other...
Russia
Rodeo Live Club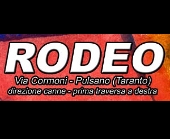 Rodeo Live Club
Via Cormoni Località Pulsano, Taranto
Show on map
Il rodeo Live club che ha ormai cambiato nome e gestione e si chiama Beyaz (appunto ex Rodeo Live Club) di Pulsano è stato uno spazio importantissimo per le band emergenti italiane. I locali di musica live in Puglia non sono numerosissimi a fronte di un movimento di musicisti attivo e pieno di talento. I nuovi gruppi rock italiani provenienti dal tacco dello stivale hanno avuto, fin quando il club è stato aperto, la possibilità di promuovere la propria musica attraverso i concerti dal vivo. Nell'ambito dell'attività dedicata ai nuovi gruppi rock Emergenza ha prodotto al Rodeo alcune bellissime ed indimenticabili serate in collaborazione con Emergenza Radio che svolgeva in quel contesto la funzione di una vera e propria radio delle band emergenti.