THE NEXT BANDS ON STAGE
Signed up 16 October 2016 at 3:47 a.m.

Alternative rock
New Zealand
Signed up 26 October 2015 at 5:39 a.m.

Acoustic
New Zealand
Signed up 19 May 2015 at 9:08 p.m.

Alternative Folk
New Zealand
Next bands around the globe

Alternative rock
Russia

Alternative rock
Italy
U'mind'rron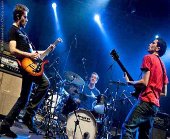 U'mind'rron
Via Dei Frantoi (massafra), Taranto
Show on map
U'MIND'RRON .accumuli culturali. è una associazione culturale che promuove ogni forma d'arte e per quanto riguarda la musica ha un attenzione particolare alla musica emergente rock in ogni sua forma e espressione. I musicisti emergenti, i nuovi gruppi musicali, i cantautori, le band rock emergenti italiane e non italiane sono tutti benvenuti in una comunità capace di esprimere una vitalità culturale ed artistica praticamente senza pari in Puglia e forse oltre i confini della stessa regione. Emergenza rock ha prodotto il suo festival per band emergenti con grande successo e soddisfazione riuscendo a garantire ai migliori gruppi musicali la presenza sul palco con la loro musica ed i loro concerti.