THE NEXT BANDS ON STAGE
Signed up 16 October 2016 at 3:47 a.m.

Alternative rock
New Zealand
Signed up 26 October 2015 at 5:39 a.m.

Acoustic
New Zealand
Signed up 19 May 2015 at 9:08 p.m.

Alternative Folk
New Zealand
Next bands around the globe

Rap
Russia
Signed up less than one hour ago

Blues rock
Spain
Deposito Giordani
Phone: +39 0434 242480



General Informations: info@depositogiordani.it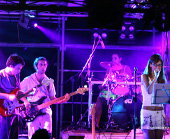 Deposito Giordani
Via Prasecco 13 - Pordenone, Trieste
Show on map
Il Deposito Giordani rappresenta una delle realtà più importanti del triveneto ed il vero e proprio centro intorno al quale si sviluppano la maggior parte di attività musicali dedicate ai concerti dal vivo della città di Pordenone. Molti artisti italiani emergenti, cantautori emergenti, band rock emergenti e artisti già affermati di livello nazionale ed internazionale hanno suonato nel centro polifunzionale Giordani. Il concorso rock per band emergenti aperto a tutti i gruppi della regione ha prodotto serate indimenticabili offrendo ai gruppi rock veneti la possibilità di promuovere dal vivo la propria musica e di suonare su un palco di eccellenza solitamente riservato ai soli artisti professionisti.