THE NEXT BANDS ON STAGE
Signed up 16 October 2016 at 3:47 a.m.

Alternative rock
New Zealand
Signed up 26 October 2015 at 5:39 a.m.

Acoustic
New Zealand
Signed up 19 May 2015 at 9:08 p.m.

Alternative Folk
New Zealand
Next bands around the globe
Signed up less than one hour ago

Funky pop
Italy

Pop
Italy
Caracol
Phone: +34 91 527 35 94



General Informations: salacaracol@salacaracol.com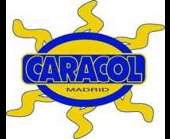 Caracol
C/ Bernardino Obregon, 18, Madrid
Show on map
La sala Caracol lleva más de veinte años ofreciendo al público todo tipo de espectáculos y alojando a algunos grupos musicales que deciden tocar en la capital de España. Este espacio ha servido a muchos de los artistas más famosos a promocionar su música, así tenemos a Amaral, Estopa o Placebo. A partir del 2005 la sala Caracol tomó la iniciativa de encaminar parte de su actividad hacia la organización de concursos de bandas, de modo que muchos grupos pudieran lanzar su carrera discográfica con una pequeña ayuda.