THE NEXT BANDS ON STAGE
Signed up 16 October 2016 at 3:47 a.m.

Alternative rock
New Zealand
Signed up 26 October 2015 at 5:39 a.m.

Acoustic
New Zealand
Signed up 19 May 2015 at 9:08 p.m.

Alternative Folk
New Zealand
Next bands around the globe
Signed up less than one hour ago

rock alternative
Peru

rock alternative
Spain
Tailors on Central
Phone: 02 9281 4178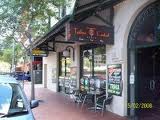 Tailors on Central
84-86 Mary St., Sydney
Show on map
Tailors on Central in the city is the perfect spot to unwind over a few drinks and enjoy a meal. The central city location allows for easy access after work and it's the perfect meeting place on the weekend. Party on later in the nightclub with Sydneys premier DJ's.