THE NEXT BANDS ON STAGE
Signed up 16 October 2016 at 3:47 a.m.

Alternative rock
New Zealand
Signed up 26 October 2015 at 5:39 a.m.

Acoustic
New Zealand
Signed up 19 May 2015 at 9:08 p.m.

Alternative Folk
New Zealand
Next bands around the globe
Signed up less than one hour ago

American Rock
Spain

Alternative rock
Sweden
Altherax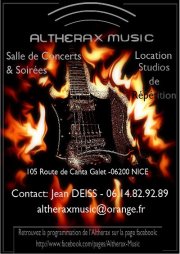 Altherax
105 Route de Canta Galet, Nice
Show on map
Altherax Music est un complexe de 360m², qui réunit une salle de concert de 120m² et le reste réparti en 5 studios de répétitions, dont 2 ont été créés à ce jour. La Salle de Concert, quand à elle, a ouvert ses portes lors de la soirée d'inauguration du 25 juin 2011. Ce projet a vu le jour dans la tête de son concepteur, Jean Deiss, en mars 2010. Après de nombreuses recherches, l'équipe Altherax M... usic a trouvé le local idéal, situé au 105 Route de Canta Galet. En novembre 2010, les travaux ont pu démarrer. Fin Juin 2011, Altherax Music débarque!