THE NEXT BANDS ON STAGE
Signed up 16 October 2016 at 3:47 a.m.

Alternative rock
New Zealand
Signed up 26 October 2015 at 5:39 a.m.

Acoustic
New Zealand
Signed up 19 May 2015 at 9:08 p.m.

Alternative Folk
New Zealand
Next bands around the globe

Other...
Germany

Punk Alternative
Belgium
Henry's Pub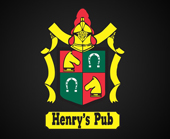 Henry's Pub
Hämeenkatu 13, Tampere
Show on map
Jo vuodesta 1997 toiminut Tampereen Henry's Pub tarjoaa elävää musiikkia sunnuntaista torstaihin. Lavalle astelevat mm. oman kylän tähdet Sami Hintsanen, Mr Willy ja Erik Valkama ystävineen.