RECENT MEDIA
8/6/2020 11:25:10 AM
8/5/2020 4:44:05 PM
THE NEXT BANDS ON STAGE
Signed up 16 October 2016 at 3:47 a.m.

Alternative rock
New Zealand
Signed up 26 October 2015 at 5:39 a.m.

Acoustic
New Zealand
Signed up 19 May 2015 at 9:08 p.m.

Alternative Folk
New Zealand
Next bands around the globe

Power Pop
Japan
Signed up yesterday at 1:24 p.m.

Pop Rock
France
Le Ferrailleur




General Informations: leferailleur@free.fr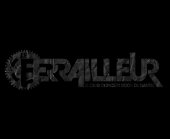 Le Ferrailleur
Quai Des Antilles, Nantes
Show on map

Le Ferrailleur a été créé en 2007 sur le site du Hangar 21, mieux connu sous le nom du « Hangar à Bananes» construit après la première guerre mondiale, lorsque le commerce de la banane était en plein essor. Depuis son ouverture, le café concert nantais est rapidement devenu une référence de la scène rock/métal française. En effet l'équipe du Ferrailleur poursuit le pari d'un lieu dédié à la découverte et à la diversité au travers d'une programmation éclectique : Rock, Métal, Electro, Hiphop, post rock… Mais pas seulement, le Ferrailleur met aussi un point d'honneur à supporter la scène locale musicale et offre depuis le début de sa création la possibilité aux groupes locaux de se produire sur scène et aux associations d'y organiser leurs soirées. Depuis 7 ans sa situation et son ambiance en on fait un lieu culturel incontournable de l'Ouest !

Des pointures nationales et internationales ont usé leurs semelles sur la scène, plus de 2000 groupes et artistes de tous styles s'y sont succédés en 7 ans ! Pour en citer quelques-uns :
No One is Innocent, Fishbone, MadBall, And So I Watch You From Afar, Converge, Electro Deluxe, BioHazard, Eiffel, Ultra Vomit, Red Fang, Jil Is Lucky, Tagada Jones, Punish Your Self, Mad Caddies, Dying Fetus, Dope D.O.D., Soulfly, Marvin, Monkey 3, Agnostic Front, Napalm Death, Fordamage, Mad Sin, Kap Bambino, Walls of Jericho, The Congos, Kadavar, Colour Haze, The Skints, Parabellum, Maniacx, The Elderberries, Kickback, Demanted are Go, Deez Nuts, Combichrist, Irma, Katerine, Carniflex… et bien d'autres !