THE NEXT BANDS ON STAGE
Signed up 16 October 2016 at 3:47 a.m.

Alternative rock
New Zealand
Signed up 26 October 2015 at 5:39 a.m.

Acoustic
New Zealand
Signed up 19 May 2015 at 9:08 p.m.

Alternative Folk
New Zealand
Next bands around the globe
Signed up less than one hour ago

Pop
United Kingdom

American Rock
Spain
Le Totem
Phone: 03 83 37 54 53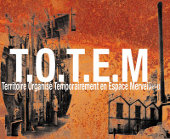 Le Totem
174 Routes Des Brasseries - Maxéville, Nancy
Show on map
Lieu dédié avant tout à la création et à l'exploration dans le domaine des arts vivants, Materia Prima y développe depuis les débuts une grosse dynamique de programmation , d'accueil en résidence et d'organisation d'événements dans le domaine des musiques actuelles, de la performance, du Body Art, du Théâtre de Rue, de la Danse, du Théâtre et du Cirque.