RECENT MEDIA
7/17/2019 5:43:53 PM
7/17/2019 10:42:23 AM
THE NEXT BANDS ON STAGE
Signed up 16 October 2016 at 3:47 a.m.

Alternative rock
New Zealand
Signed up 26 October 2015 at 5:39 a.m.

Acoustic
New Zealand
Signed up 19 May 2015 at 9:08 p.m.

Alternative Folk
New Zealand
Next bands around the globe
Garage Rock
Canada

Alternative rock
Russia
M.A.U.Club
Phone: 03-81-20-23-577



General Informations: info@mauclub.de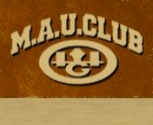 M.A.U.Club
Warnowufer 56, Rostock
Show on map
DER Liveclub in Rostock mit fetter Technik, geilem Sound und direkt am Hafen gelegen. Seit 6 Jahren feiern wir in dieser 900er-Location die Emergenza-Semifinals und dass schon Bands wie Royal Republic, Johnossi, Pothead, Haudegen, Montreal, The Love Bülow, J.B.O., Donots, Oomph!, Soulfly, Broilers, Knorkator uvm. hier gespielt haben, beweist, dass der MAU-Club durchaus mal einen Besuch wert ist!