THE NEXT BANDS ON STAGE
Signed up 16 October 2016 at 3:47 a.m.

Alternative rock
New Zealand
Signed up 26 October 2015 at 5:39 a.m.

Acoustic
New Zealand
Signed up 19 May 2015 at 9:08 p.m.

Alternative Folk
New Zealand
Next bands around the globe

Other...
Italy
Signed up yesterday at 12:56 a.m.

Pop Rock
Italy
Le Bikini
Phone: 05-62-24-09-50



General Informations: contact@lebikini.com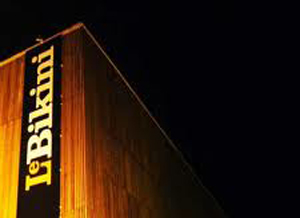 Le Bikini
Rue Théodore Monod, Toulouse
Show on map
Le Bikini est une des salles de concerts les plus célèbres de France, détruite en 2001 lors de l'explosion AZF elle réouvre en 2007 et a vu depuis près de 5000 groupes s'y produire et s'est imposé comme une étape incontournable des tournées nationales et internationales. C'est aussi un révélateur pour nombre d'artistes qui y feront leurs début comme les Rita Mitsouko, les Stranglers, Pigale et les Garçons Bouchers, Noir Désir, Mecano, Lloyd Cole, Zebda... S'y succèderont aussi Simple Plan, Woodkid, Miossec, Patti Smith, Artcic Monkeys, les Pixies, les Bérurier Noir, Paul Young, la Mano Negra, Little Bob, Kent, OTH, Jeff Buckley, NoFX, Paul personne, Tool, François Hadji-Lazaro, Muse, Coldplay, Placebo, -M-, Zebda, les Fabulous Trobadors, Arno, Korn, les Pogues, Elvis Costello, LKJ, Louise Attaque, Mickey 3D, Soufly, Indochine, Keff Mills, St Germain, Carl Cox... pour ne citer qu'eux. Aujourd'hui son ambition est de développer la scène musicale émergente de la région Toulousaine en organisant, concerts de jeunes talents et tremplins.