THE NEXT BANDS ON STAGE
Signed up 16 October 2016 at 3:47 a.m.

Alternative rock
New Zealand
Signed up 26 October 2015 at 5:39 a.m.

Acoustic
New Zealand
Signed up 19 May 2015 at 9:08 p.m.

Alternative Folk
New Zealand
Next bands around the globe
Signed up less than one hour ago

Alternative rock
Spain

Other...
Germany
The Agincourt Hotel
Phone: +61 02 92 81 45 66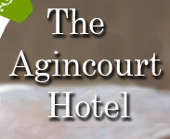 The Agincourt Hotel
871 George St., Sydney
Show on map
This is a Sydney staple. This historical pub is the most central pub in Sydney. Opposite the main train station this place has been running club nights and live rock music successfully for years. Sadly this establishments has since gone "straight edge" and won't host music anymore they tell us. Emergenza brought some of the best punk, rock and electronic unsigned bands that New South Wales ever saw. The best Australian emerging artists came out of the basement in the 150 capacity room.