THE NEXT BANDS ON STAGE
Signed up 16 October 2016 at 3:47 a.m.

Alternative rock
New Zealand
Signed up 26 October 2015 at 5:39 a.m.

Acoustic
New Zealand
Signed up 19 May 2015 at 9:08 p.m.

Alternative Folk
New Zealand
Next bands around the globe

Other...
Germany

Punk Alternative
Belgium
EXTRA cinemusic
Phone: +39 34 56 01 15 90



General Informations: info@extracinemusic.com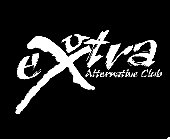 EXTRA cinemusic
V.le Battisti 50 Recanati ( Mc ), Ancona
Show on map
L'Extra Cinemusic da anni ospita i più grandi artisti italiani e le più note band, emergenti e non. Divertimento, musica e drink per godersi serate e concerti dal vivo. Uno dei locali più frequentati nelle Marche, un punto di riferimento musicale nella scena rock del centro Italia.