RECENT MEDIA
7/23/2019 2:05:09 PM
7/22/2019 10:25:12 PM
THE NEXT BANDS ON STAGE
Signed up 16 October 2016 at 3:47 a.m.

Alternative rock
New Zealand
Signed up 26 October 2015 at 5:39 a.m.

Acoustic
New Zealand
Signed up 19 May 2015 at 9:08 p.m.

Alternative Folk
New Zealand
Next bands around the globe
Signed up less than one hour ago

Other...
Japan

Grunge Metal
Sweden
Underground
Phone: 0049-0-221-542326



General Informations: info@underground-cologne.de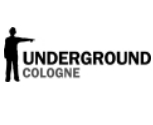 Underground
Vogelsanger Str. 200, Köln
Show on map
Underground in Köln — einer der coolsten Clubs der Stadt, den jeder kennt und der schon seit unzähligen Jahren sein Publikum zieht. Neben den absolut rock'n'rolligen Künstlerwohnungen bietet der Club einen riesigen Parkplatz, auf dem oft Nightliner zu sehen sind, was die allgemein tolle Atmosphäre noch verstärkt. Seit 2009 finden hier unsere Kölner Vorrunden statt und außerdem veranstalten wir noch unsere Acoustic Shows, ein beliebtes Special Projekt von Emergenza. Mit Referenznamen wie Dog Eat Dog, Sick of it all, Boppin B. und Dritte Wahl kann sich der Underground als Live-Club definitiv sehen lassen. Neben Konzerten finden hier sonst sehr gut besuchte Disco/Dj-Veranstaltungen statt oder man kann sich im weiträumigen Außenterrain bei etlichen Bieren treffen...Tolle Location!!