RECENT MEDIA
1/23/2019 1:47:59 PM
1/23/2019 9:01:26 AM
THE NEXT BANDS ON STAGE Ближайшие выступления
Signed up 02 janvārī 2019 at 22:02 / Заявка подана 02 janvārī 2019 в 22:02

Hip Hop
Latvija
Signed up 04 novembrī 2018 at 17:12 / Заявка подана 04 novembrī 2018 в 17:12

Alternative rock
Latvija
Signed up 02 jūnijā 2018 at 11:26 / Заявка подана 02 jūnijā 2018 в 11:26

Hardcore Rock
Latvija
Next bands around the globe Ближайшие международные выступления
Signed up 1 hour ago / Заявка подана 1 час назад

Other...
Japonija
Signed up 1 hour ago / Заявка подана 1 час назад

Hip Hop
Norvēģija
Le Club Soda
Phone: +1 514 286 10 10



General Informations: information@clubsoda.ca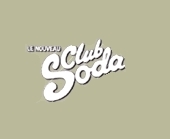 Le Club Soda
1225 St. Laurent, Qc, Montreal
Show on map
This is Montreal's funkyest club. With intelligent programming and a gig list to make any club owner envious, they are the coolest and most respected club in town. Events such as The Montreal Ska festival and b movies projections are the order of the day. One of the most eclectic clubs in Canada and famous the world over, this is where such bands as The Dears and Arcade Fire have started and we at Émergenza festival are proud to bring Montreal's best up-coming goups playing their craft live on stage.