RECENT MEDIA
12/10/2018 9:54:02 AM
12/10/2018 9:53:29 AM
THE NEXT BANDS ON STAGE
Signed up 06 December 2018 at 6:22 AM

Alternative rock
United States of America
Signed up 05 December 2018 at 8:36 AM

Other...
United States of America
Signed up 26 November 2018 at 6:32 AM

Indie Pop
United States of America
Next bands around the globe

Other...
Germany

Metal
South Korea
The Cornish Arms Hotel
Phone: +61 3 93 80 83 83



General Informations: thecornish@bigpond.com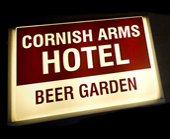 The Cornish Arms Hotel
163a Sydney Rd Brunswick, Melbourne
Show on map
This pub is a big building where you can choose to have either a draught beer, a great meal or watch the best upcoming bands in Melbourne. It has a great roster of DJ's, open mic nights for singer song-writers and full bands displaying their talent. Our music competition once again helps this great venue showcase what's on offer in the melbourne area.