THE NEXT BANDS ON STAGE
Signed up 16 October 2016 at 3:47 a.m.

Alternative rock
New Zealand
Signed up 26 October 2015 at 5:39 a.m.

Acoustic
New Zealand
Signed up 19 May 2015 at 9:08 p.m.

Alternative Folk
New Zealand
Next bands around the globe
Signed up less than one hour ago

Rock
Russia

Garage Rock
Russia
La Trocardière
Phone: 02-51-70-20-40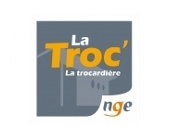 La Trocardière
101 Rue De La Trocardiere, Rezé
Show on map
La Trocardière permet d'accueillir jusqu'à 5000 personnes grâce à un espace modulable. Elle accueille tous genre d'évènement, concerts, tremplins, conférences,expositions...