RECENT MEDIA
4/25/2018 8:17:02 PM
4/25/2018 4:41:10 PM
THE NEXT BANDS ON STAGE
Signed up 16 October 2016 at 3:47 a.m.

Alternative rock
New Zealand
Signed up 26 October 2015 at 5:39 a.m.

Acoustic
New Zealand
Signed up 19 May 2015 at 9:08 p.m.

Alternative Folk
New Zealand
Next bands around the globe

Christian/Gospel Rock
United States of America

Progressive rock
Finland
Salle de la Cité
Phone: 299791066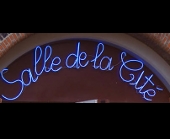 Salle de la Cité
10 Rue Saint Louis, Rennes
Show on map
Construite en 1925 et associée à la maison du peuple, la salle de la Cité accueille des concerts amateurs, des tremplins rock, et des groupes émergents.