THE NEXT BANDS ON STAGE
Signed up 16 October 2016 at 3:47 a.m.

Alternative rock
New Zealand
Signed up 26 October 2015 at 5:39 a.m.

Acoustic
New Zealand
Signed up 19 May 2015 at 9:08 p.m.

Alternative Folk
New Zealand
Next bands around the globe

Acoustic
France

Rock
Spain
Factory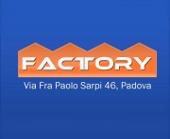 Factory
Via Fra Paolo Sarpi 46, Padova
Show on map
Con il suo fitto calendario di eventi e i prezzi moderati il Factory ha conquistato il cuore dei clubbers padovani. Complici le serate con concerti di gruppi emergenti con i migliori artisti rock italiani, le serate dei Factory sono sempre gremite. E in un locale così non poteva mancare il contest di musica più importante del mondo: Emergenza Festival!