THE NEXT BANDS ON STAGE
Signed up 16 October 2016 at 3:47 a.m.

Alternative rock
New Zealand
Signed up 26 October 2015 at 5:39 a.m.

Acoustic
New Zealand
Signed up 19 May 2015 at 9:08 p.m.

Alternative Folk
New Zealand
Next bands around the globe

Death core
Russia

Death core
Russia
El Loco
Phone: +34 96 351 85 21



General Informations: info@lococlub.org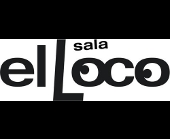 El Loco
C/ Erudito Orellana, 12, Valencia
Show on map
Loco club es una de las salas más interesantes en cuanto a conciertos de rock en Valencia, y no solo eso, sino que su ininterrumpida programación y su variedad de géneros musicales le hace ser una sala ideal tanto para grupos pop como para bandas indie rock. Loco club es sin duda el espacio perfecto para estilos como el country, rock & roll, soul, punk y garage, entre otros. Además, en este club se pueden celebrar diferentes tipos de eventos, incluso la despedida del año.