THE NEXT BANDS ON STAGE
Signed up 16 October 2016 at 3:47 a.m.

Alternative rock
New Zealand
Signed up 26 October 2015 at 5:39 a.m.

Acoustic
New Zealand
Signed up 19 May 2015 at 9:08 p.m.

Alternative Folk
New Zealand
Next bands around the globe
Rap
France

Hard Rock
Italy
Antirouille
Phone: 04 67 06 51 68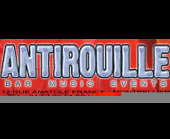 Antirouille
12 Rue Anatole France, Montpellier
Show on map
Salle de concert, bar musical en centre ville à proximité de la gare et de la comédie ouverte à toutes les musiques actuelles, rock, chanson française, reggae, rap, blues, drum&bass, beatbox …mouvement, l'ambiance y est souvent chaude.