THE NEXT BANDS ON STAGE
Signed up 16 October 2016 at 3:47 a.m.

Alternative rock
New Zealand
Signed up 26 October 2015 at 5:39 a.m.

Acoustic
New Zealand
Signed up 19 May 2015 at 9:08 p.m.

Alternative Folk
New Zealand
Next bands around the globe

Rock'n'Roll
Denmark
Signed up less than one hour ago
Rap
France
Chez Paulette
Phone: 03-83-41-11-20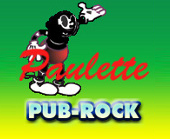 Chez Paulette
343, Rue Régina Kricq 54200 Pagney Derriere Barine, Nancy
Show on map
PAGNEY derrière BARINE... Un petit village de 500 âmes au coeur de la Lorraine que l'on imagine perdu. Pourtant, c'est probablement le village le plus rock de France, évocateur de concerts à l'ambiance bien particulière. Certains soirs, la population s'y trouve doublée. De Luxembourg, Dijon, Chaumont, Reims, Besançon, Strasbourg, Mulhouse, Metz, Nancy, Epinal, les immatriculations inattendues jalonnent la rue principale où se situe un pubrock au nom des plus franchouillards : "PAULETTE". S'y sont succédés: Chris BAILEY, Robert GORDON, Alex CHILTON, Peter ZAREMBA, Chris SPEDDING, Lee BRILLEAUX, Jeffrey Lee PIERCE, Vince TAYLOR (eh! oui...), et bien d'autres... mais aussi des français tels que Dick RIVERS, Jean-Louis AUBERT et puis SINCLAIR, Louis BERTIGNAC, les Têtes Raides, Yves JAMAIT, Tété, Charlélie COUTURE.. D'autres artistes locaux, moins connus et quelquefois éphémères, sont accueillis bénévolement pour parfaire leur expérience.