THE NEXT BANDS ON STAGE
Signed up 16 October 2016 at 3:47 a.m.

Alternative rock
New Zealand
Signed up 26 October 2015 at 5:39 a.m.

Acoustic
New Zealand
Signed up 19 May 2015 at 9:08 p.m.

Alternative Folk
New Zealand
Next bands around the globe
Signed up less than one hour ago

Pop Rock
Brazil

Aggressive Rock
Japan
Uagamama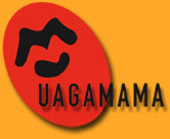 Uagamama
Via Fornace,2, Pordenone
Show on map
Al Uagamama il divertimento è una piccola libertà, una forma di benessere del nostro tempo che lo staff gestisce con grande serietà. Ogni serata della settimana è differente per non far mai annoiare il pubblico. Il locale è aperto dal giovedì alla domenica con una programmazione varia che prevede anche eventi, showcase e feste a tema. Ma non mancano mai i live dei migliori gruppi musicali in circolazione.